Supplemental Security Income Attorney in Utica, Michigan
Are You Struggling to Get SSI Benefits?
Apply for Supplemental Security Income in Utica, MI
Were you denied Social Security disability benefits because you didn't have enough work credits to qualify? The good news is there is another option. At Grech Law Firm, I'm prepared to help you apply for Supplemental Security Income. I will personally file your application and assist you through every procedure that is required by Social Security.

This SSI program is designed to provide supplemental income for those who are disabled and have a very limited income or resources without the need to have worked in the past. To learn more about Supplemental Security Income, set up a free consultation with a trusted disability attorney today.
How Do I Receive SSI?
As a needs-based disability benefits program, SSI recipients are determined by an individual's income and assets. Those eligible to receive SSI must have a very limited income, and one's means must fall below specific SSI income requirements. Currently, if you are a single individual, the asset limit is set at $2,000.00 and if you are married, the asset limit is set at $3,000.00. Social Security will look at whether you have any income coming in to determine if you meet the resource limit. In addition, Social Security will do an asset test when you apply for SSI benefits to determine if you own any stocks, bonds, mutual funds, and life insurance policies with a cash value. Furthermore, Social Security will inquire as to whether you own any banks accounts, including both checking accounts and saving accounts. As part of the asset test for SSI disability benefits, Social Security will also want to know if you own any property or vehicles. Social Security will exclude one property from the asset test as long as you live in the property and they will also exclude one vehicle as long that vehicle is your primary mode of transportation. If all of your resources are below the resource limits noted above, you can then qualify for SSI benefits is we can prove you are disabled.
Your living situation and your spouse's income can also impact how much your SSI benefit amount will be. In 2022, the maximum SSI benefit amount is $841.00 per month. If you are married and fall below the asset limit, a portion of your spouse's income can be deemed to you and end up reducing, or even eliminating, benefits. It would be a shame to go all the way through the time consuming SSI process and get awarded benefits only to find out your benefit is reduced to nothing due to your spouse's income. That is why contacting me before filing is important so that I can assess whether or not you will qualify for SSI benefits.
Your living situation can also impact how much your benefit will be. The maximum SSI benefit amount in 2022 is $841.00 per month. However, if you live with someone and you do not pay rent or contribute to bills, Social Security will assume that the person you live with is "gifting" you rent and bills and they will reduce your SSI benefit amount substantially. An expert SSI attorney like myself can help ensure that there is no reduction in your SSI benefits if you contact me today!
Are you wondering if you can qualify for Supplemental Security Income? Have you already applied and been denied? Allow me to help you pursue the income you deserve! With more than 22 years of experience helping people just like you, I take the time to get to know my clients, ensuring nothing gets overlooked.
Discover the Supplemental Security Income Process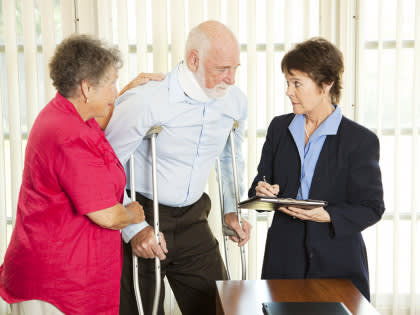 You may be wondering if you even need an SSI attorney. Applying for Supplemental Security Income can be overwhelming. Moreover, statistics show that people who have an disability attorney for SSI claims have a much higher success rate and are approved for benefits at a much higher rate. That's why I offer disability benefits assistance services, to make sure you have the best chance at getting approved for SSI benefits. I'll walk you through the entire process, including:
Determining your eligibility

Filing an application

Appealing a denial

Obtaining all relevant records

Attending your denial hearing

Diligently preparing you for your hearing
I never accept payment for a fee unless you're approved for benefits. Get in touch with me for disability benefits assistance.
Why Work with Me for Your SSI Needs?
Unlike big law firms, I offer individual attention to each case. The attorney you talk to on the phone and meet with will be the same person that represents you in court and throughout the entire process. This certainly is not the case with many of the big law firms where you get pushed of to a legal clerk who handles your case until the hearing. In fact, at most large firms, you will never even meet your attorney until the day of your hearing. At the Grech Law Firm, I'll walk you through the entire disability process, start to finish, and help you gather the correct documents to build a tough case. If you're a caretaker, caseworker, or family member, I am ready to help you assist your person in need. Whether you're just beginning to think about applying for SSI or have applied and been denied, I can create a custom plan for you that helps you seek you the benefits you deserve.
I don't get paid until you do. If you need SSI guidance in Utica, Michigan, or the surrounding areas of Mount Clemens, Sterling Heights, Southfield, Warren, or Troy, contact me at Grech Law Firm Attorney & Counselor today.